CLUB AMENITIES
Coast Fitness will always provide you with state-of-the-art equipment and all other amenities you'll need to reach your fitness goals!
Enjoy your workout with the following amenities:
SPORTS FIELD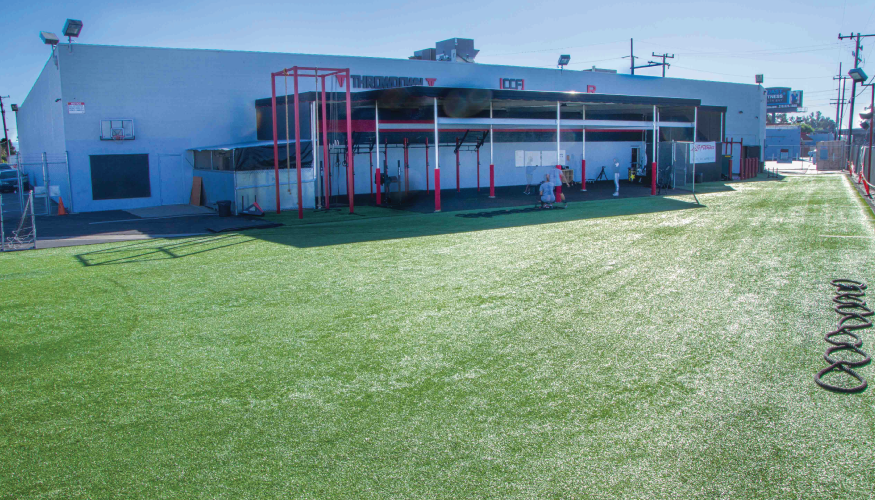 Expansive inside/outside workout pavilion (12,000sf) which features a functional training area, strength and conditioning equipment, 40 yard sprint zone, monkey bar section, sleds, ropes, basketball hoop and aerobic stage.
CARDIO EQUIPMENT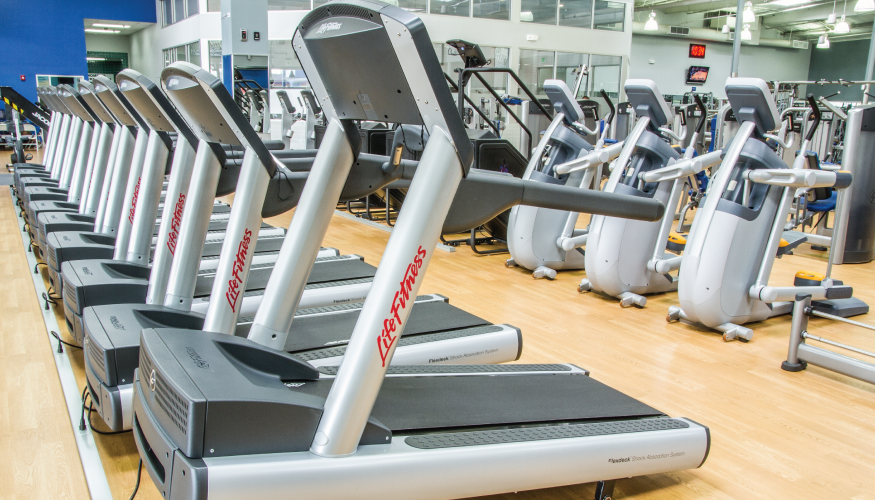 We offer Cardio Equipment designed to deliver an amazing experience to people of all fitness and ability levels. We provide a wide variety of machines to allow you to take your fitness to the next level, while doing something you enjoy. Feel free to change up your workout options to keep you moving with natural, low impact movements on our clean and current cardio equipment.
COAST KIDS AND LEARNING CENTER*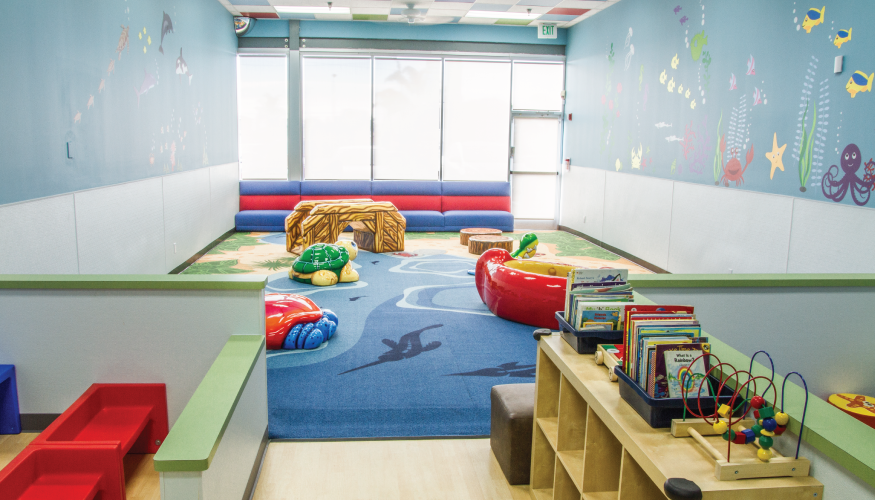 Our Kids Club is a clean, safe, and fun room designed to give parents peace of mind when they are working out. The Kids Club is staffed with caring, professional Coast Fitness staff who will create a safe and entertaining environment for your children. Stocked with plenty of toys, and educational materials, kids will have a blast and even enjoy learning!
Kids Club reservations can be made on a first-come, first-served basis by calling 310-978-1800 up to 12 hours in advance of your reservation or by signing up in person at the front reception desk. In order to service other members, reservations will be canceled if you arrive at the front desk more than ten (10) minutes after your reservation time.
SPECIALIZED TRAINING AREA – SYNRGY360XL*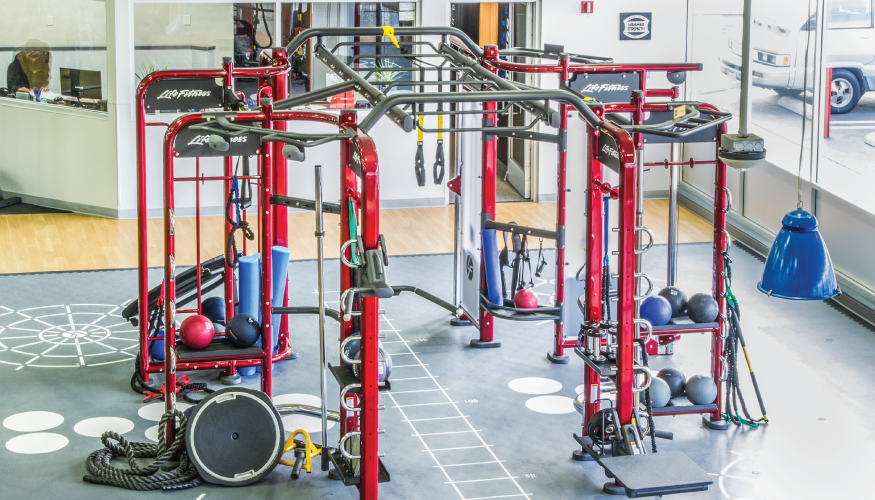 Maximize the impact of your workout in a short time with an intense workout in our specialized training area. The area features the Life Fitness Synrgy360XL machine and selected apparatus which will enhance your strength and conditioning program.
EXTREME CYCLING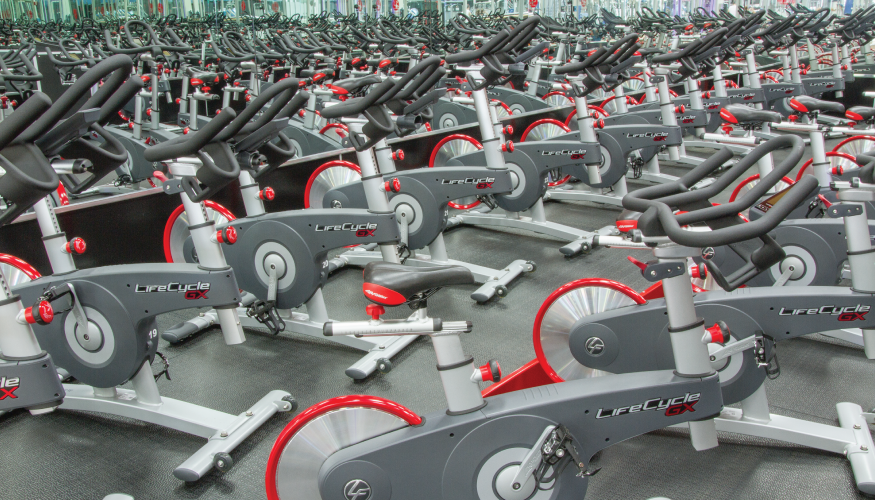 An indoor cycling workout where you ride to the rhythm of powerful music. Take on the terrain with your inspiring team coach who leads the pack through hills, flats, mountain peaks, time trials and interval training. Discover your athlete within – sweat and burn to reach your endorphin high!
BLEND JUICE BAR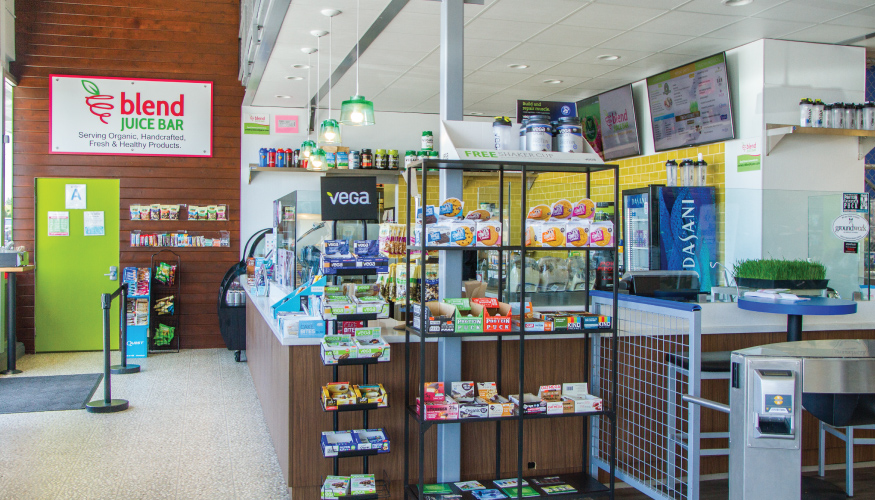 After an intense workout, give your body the nutrition it craves by enjoying one of the refreshing and delicious drinks from our Blend Juice Bar. There are many different nutrition packed juices, shakes and drinks to choose from, or order your own personal creation. All of our drinks are fresh and made to order, allowing you to maximize your body's natural desire to be healthy and thrive! Any workout is not complete without a revitalizing and energizing shake, juice or drink made by our juice bar specialists.
FREE WEIGHTS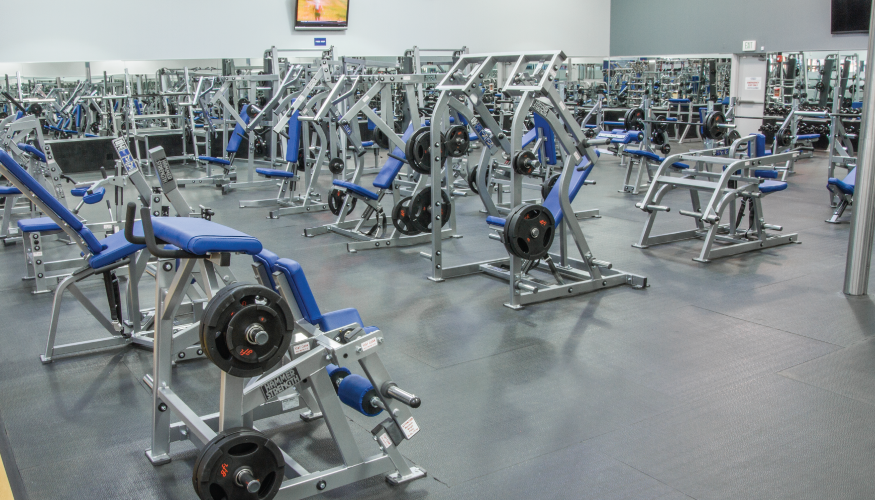 Muscle added by Free Weight training speeds metabolism, turning your body into a calorie-burning machine. Free Weight training also increases endurance, improves posture, strengthens bones, and cuts your risk of injury, all great reasons to add our Free Weights into your exercise program! The greatest difference between using Free Weights and machines is your control, balance required, and resistance offered through a range of motion during exercises. Free Weights offer the best training for the desired muscle or muscle groups allowing you to produce stunning results quickly!
THROWDOWN UFC STYLE OCTAGON RING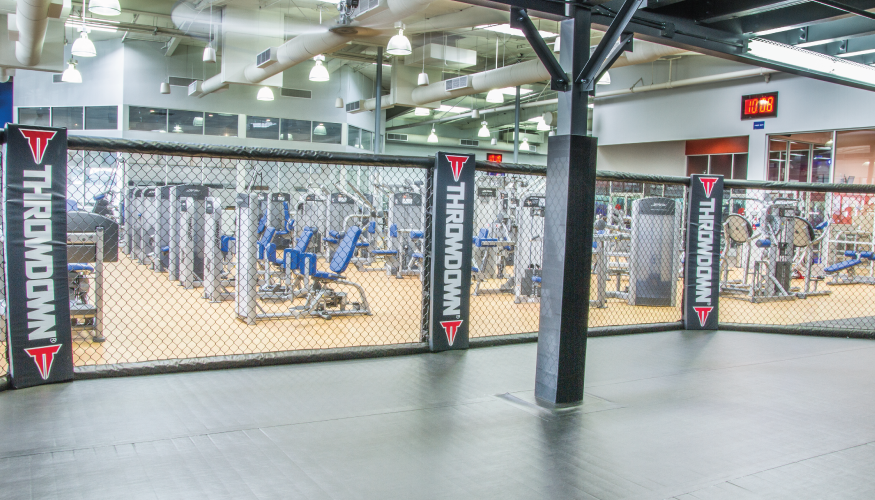 Unleash your ultimate fighter with our UFC Style Octagon Ring from Throwdown. We hold MMA classes in this ring, including Muay Thai and boxing.
HYDRO-MASSAGE*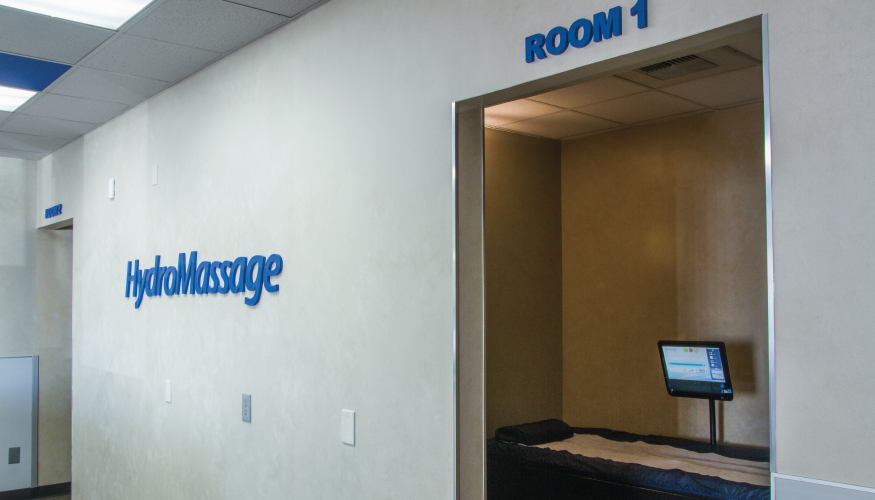 Hydro-Massage is based on the historic and natural therapeutic use of warm water. Dating as far back as ancient Greece, Hydro-Massage has always been a great source of relaxation and rejuvenation. Hydro-Massage applies massage techniques as warm water provides a calm and healing experience. Helping to relax tension as you increase blood flow and circulation, Hydro-Massage is an excellent stress reliever for muscle and soft tissue pain and tension. It is one of the most requested and popular forms of massage being offered today.
POWER AND HOT YOGA*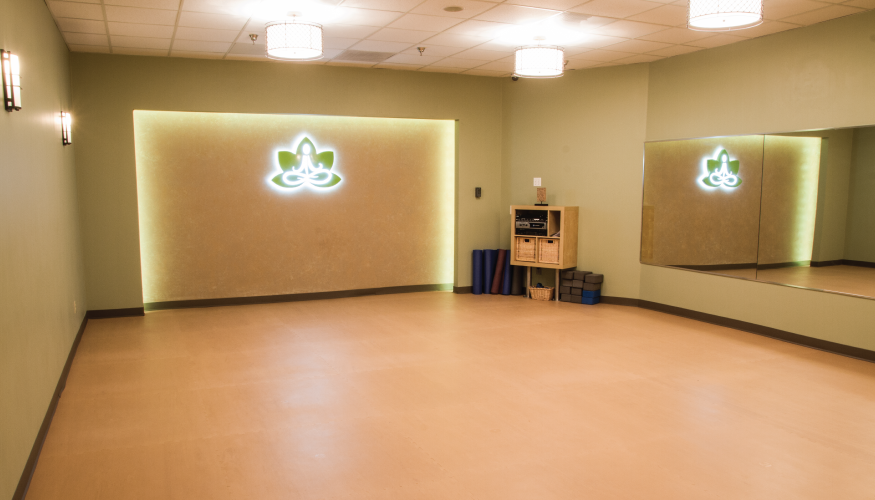 Our Yoga classes offer a Vinyasa-style dynamic flow which uses breath as the primary link between attentiveness and integration of the body and mind. Hot Power Yoga is an intensified practice that will flow you through strengthening your body during the entire class. The movement in this class is consistent and will be an energizing cardiovascular workout. The calories will burn away as you sweat and move your way through each of the poses. This class focuses on flow,
movement and balance. Room temperature is between 85-109 degrees and designed for intermediate to advanced levels.
PRO SHOP
Our Pro Shop is your convenient source for all your exercise supplies and needs. Designed to keep you moving we have all the products needed for a successful workout. We offer many extras so if you forget or need headphones, towel, lock, and more, check it out. Our specialists can recommend the perfect accessory or product to help take you to the next level!
LARGE FINNISH STONE AND THERAPY SPA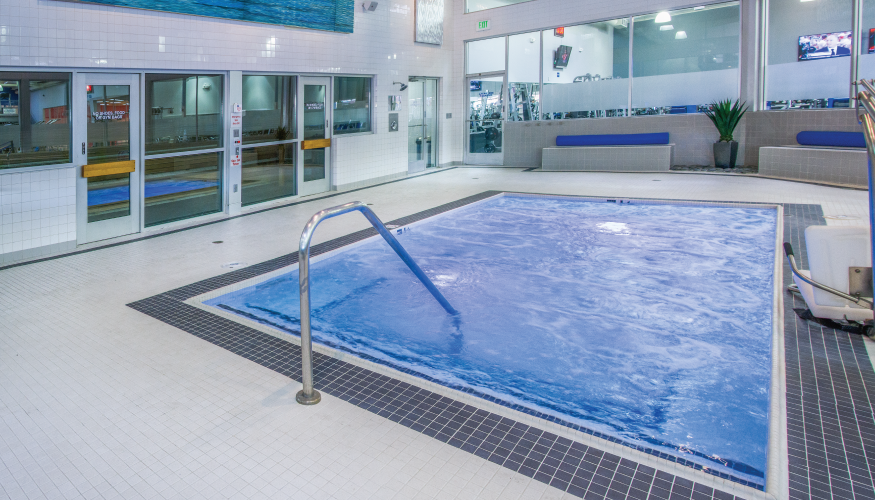 Relax and decompress as you enjoy all the therapeutic benefits of our Finnish Sauna and Therapy Spa designed to relieve stress and treat physical conditions, as well as providing amazing body relaxation. Customize your post workout recovery with a Sauna and Therapy Spa experience, helping you reduce stress and improve circulation and flexibility.
CUSTOMIZED PERSONAL TRAINING*
Our Specialized Training is an amazing way to maximize your fitness experience. We offer personal one-on-one or group training designed specifically for your needs whatever they may be. Specialized Training is the quickest and safest way to reach your goals at our gym. We have enthusiastic, professional trainers ready to take you to the next level. We would love to help you with a program specifically tailored to your needs as well as a program that is fun, challenging and results driven. Learn more about Coast Fitness' Personal Training Program – click here
PRIVATE WOMEN'S TRAINING AREA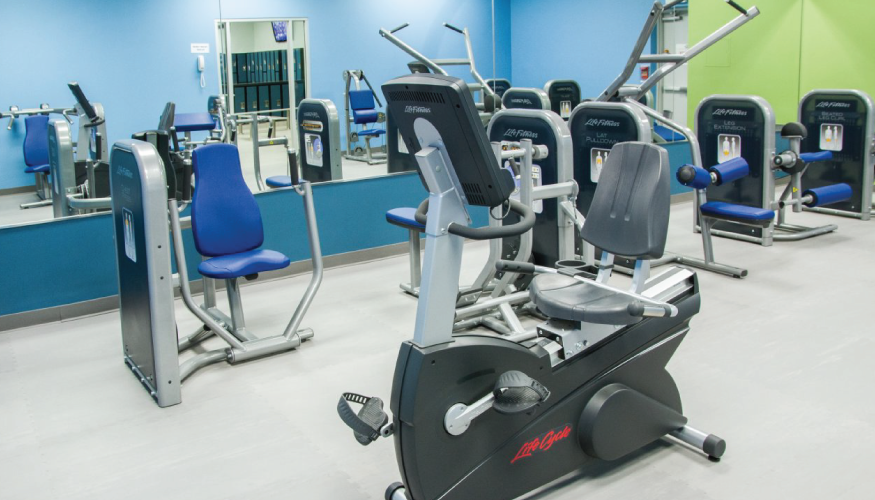 Our private women's training area is located directly off our women's locker room. It contains select cardio, selectorized equipment and free weights to allow women to train in private should they choose to.
SPEED TANNING (18 and older)*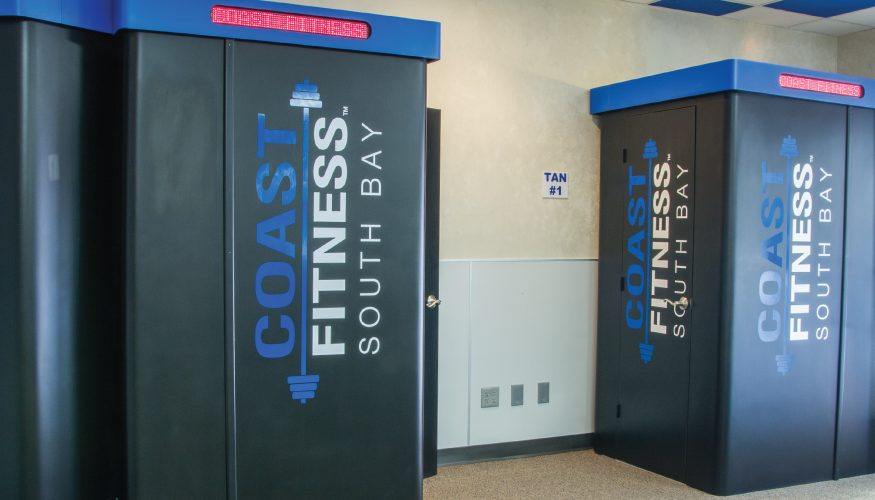 We offer a variety of ways to achieve your desired tan. Relax and unwind while using the latest technology in high performance speed tanning equipment. Our specialists will help you feel comfortable and get the look you desire. Feel rejuvenated and enjoy the end result a stunning, bronzed body!
*Additional charges from some services depending on your selected membership plan.